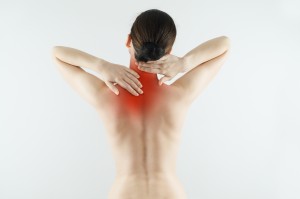 Common symptoms include chronic, severe pain in the neck, often with radiation to the shoulder, arm, or hand.  The pain is present all day for weeks, months, or years.  The pain may be accompanied by severe back pain and may worsen with prolonged sitting or standing.  The pain is debilitating.
MRI Findings include: Disc bulge, protrusion, herniation, or annular tear involving one or more cervical discs — most commonly c4-5 or c5-6.  A single small bulge may be associated with severe pain.  Pain due to an annular tear, without a disc protrusion, is often undiagnosed for years.
Common disc disorders, such as disc herniation, disc protrusion, disc bulge, and annular tears of the disc capsule may also affect the neck, producing severe, chronic pain which fails to adequately respond to medical treatment.  Disc disorders in the neck often product pain which radiates to the trapezius, shoulder, or down the arm, and may be associated with hand and arm weakness or numbness (cervical radiculopathy), or headache (cervicogenic headache).  Consultation, evaluation and anti-TNF treatment are managed in the same way as for patients with chronic severe back pain or sciatica. Please see the video of a patient treated utilizing the INR's patented local anti-TNF etanercept treatment in 2001. A gentle, rapid, off-label method that takes only minutes, and is done in the privacy and comfort of our office. Anesthesia is not necessary, and following a brief visit patients may return directly to their usual daily activities.
INR medical providers now have been using this fast, gentle, non-surgical method for a decade, with thousands of patients treated, from around the world. This revolutionary approach for severe back pain, neck pain, or sciatica, and other breakthroughs invented at the INR, are cited by scientific publications by physicians and scientists from around the world; are now supported by multiple-studies and multi-center clinical data; and are available for you, today.
What we treat
For further background, please see the following scientific publications:
Disclaimer: Individual results vary, not all patients respond. Continuing maintenance treatment is necessary to maintain the clinical response. Anti-TNF treatment for the indications below is off-label. Please see the Terms of Use. Maintenance dosing, usually weekly, but sometimes as little as monthly, is necessary for optimal effect. The method of local etanercept treatment utilized for these patients is a patented invention of the INR